🎨DOES YOUR CHILD SCRIBBLE ALL OVER THE HOUSE?
LET THEM ENJOY THEIR ART JOURNEY WITH THIS!🎨

DETAILS DESCRIPTION:
1. Kids love graffiti by nature! So let them develop creativity in all aspects of creation. The Drawing Board enables your kids to express themselves artistically;
2. The Projection Drawing Board will become a useful and easy toy for your kids to learn how to draw a complete image! Just turn down the lights, switch on the projector, insert a preprinted slide and trace away;
3. Attractive and durable intelligent toy. Cute and Modern in design with light projector innovative technology;
4. This electronic projector will project 24 different images that your kids can paint along with the picture. This will help and encourage children to learn to draw, paint and trace while having fun.
Features and Benefits:
Kids can draw based on the pattern projected by the projector on the table or on the drawing book

Includes 3 pcs projection slides and each slide has 8 different patterns (24 patterns in total)

With music to attract kids attraction to stay longer to write and draw

Develops color perception and imagination ability and increases baby's interest in painting

Trains your kid to use coordination between hand, eye and mind
Specification:

Material Type: Environmentally Friendly ABS Plastic

Dimensions: 35.5cm

Battery: 3 x AA battery (not included)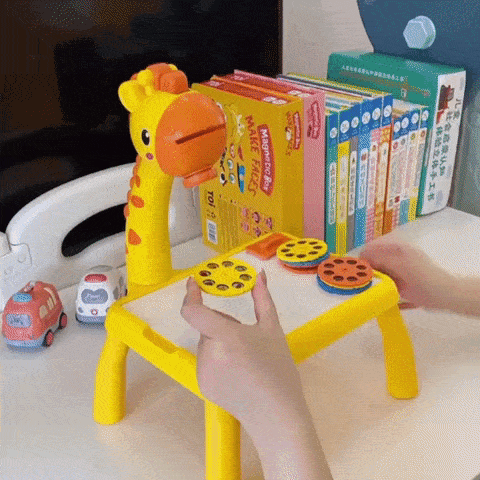 Let them show their creativity and imagination, help them learn how to draw, and encourage them to improve their art skills through this innovative and educational art toy!
This art tool projects cute images such as animals and cartoons that will serve as their guide into painting. With this tool, your child can expect great and amazing results, making them feel happy and want to make more! This Children Projection Drawing Board will help them engage more in different art styles.
Art is about expressing yourself freely and artistically... and this Paint Projector is the best tool for it!
Make your kids learn and study art the fun way! This Projection Drawing Board is designed to make learning art entertaining and exciting.
Package Includes:
1 x Table

3 x Pattern Slide

1 x Eraser

1 x Blank Drawing Book

12 x Painting Pen